Saved Stories – None
Few policy differences narrowed at Trump meeting with congressional leaders – CNN
Intelligence Committee chair Devin Nunes cleared of wrongdoing in House ethics probe – Washington Post
Devin Nunes Cleared of Misconduct Over Disclosing Monitoring of Trump Aides – New York Times
Paul Manafort, Special Counsel Mueller tussle over Ukrainian op-ed – Reuters
Donald Trump Jr frantically tries to defend himself after latest Trump-Russia bombshell lands

One day after his controversial testimony about the Trump-Russia scandal, things have managed to get even worse for Donald Trump Jr today. A new bombshell has just landed which demonstrates that his Trump Tower meeting with the Russian government was even more nefarious than previously believed. As a result, Junior is now frantically trying to defend himself from this new bombshell on Twitter and he may have given away a few things in the process.CNN is now reporting that after the meeting, Donald Trump Jr's friend Rob Goldstone followed up via email with Trump campaign adviser Dan Scavino (link). This comes after Junior had long characterized the meeting as a bust, and it demonstrates that at least someone involved seemed to think the meeting was fruitful. This does not further incriminate Donald Trump Jr, as he was not included in these emails. However, Junior is overreacting on Twitter, which suggests there's more to this.

Junior retweeted a political ally who had opined that "[CNN host Jake] Tapper's on-air presentation of this story led with a clip of Don Jr. denying he had any follow up with Russians after Trump Tower. Portrayed as misleading." He then referenced the portion of the CNN online article which stated "None of the newly disclosed emails were sent directly to Trump Jr." But that's not the point here.

This new reporting merely reveals that other participants judged the meeting to have been more fruitful than he's claimed. That could simply mean that he was mistaken. Maybe he didn't even know that Goldstone continued to communicate with the Trump campaign about the meeting after the fact. If so, why not just say so? Why is Donald Trump Jr frantically trying to defend himself against a report that doesn't even appear to incriminate him? Is there more to this, or is he just panicking at this point?

The post Donald Trump Jr frantically tries to defend himself after latest Trump-Russia bombshell landsappeared first on Palmer Report.
Paul Manafort's legal team bites back at Robert Mueller over Ukraine op-ed – Washington Examiner
Paul Manafort says he edited Ukraine op-ed, is silent on colleague's alleged ties to Russian intelligence – Washington Post
Trump's mental meltdown – Washington Post

Washington Post

Trump's mental meltdown

Washington Post

Donald 

Trump

 spent much of 2016 questioning his opponent's stamina to be president of the United States. But it is now

Trump's

 own fitness that is being scrutinized by friends and foes alike. After 

Trump

 spent recent weeks creating a level of chaos 

…
What if Mueller catches Trump and it isn't enough? – Washington Post
"Checkmate! Legal scholar says this clause in Michael Flynns plea deal means its over for Donald Trump

It's been nearly a week since Special Counsel Robert Mueller's plea agreement with former Donald Trump National Security Adviser Michael Flynn became official, but the details of that deal are still leaking out. Today a new clause in the deal surfaced publicly, which reveals additional requirements for Flynn whose sole purpose is to prevent Trump from sabotaging things. This led one respected legal scholar to simply declare "Checkmate!"Here's how Harvard Law Professor Laurence Tribe summed up the latest news: "Flynns plea deal, unlike nearly all other plea deals, includes a sweeping, open-ended pledge by Flynn to cooperate fully with any state & local prosecutors Mueller might designate which defangs Trumps power to shield himself by firing or pardoning people. Checkmate!" (link). There are two specific things here at play.

First, let's say that Trump decides to pardon Flynn on all federal charges, in a belated attempt at preventing Flynn from continuing to rat him out. Flynn would still be at the mercy of state level prosecutors such as New York Attorney General Eric Schneiderman, who could either charge Flynn based on his confession, or force Flynn to cooperate in any state-level charges that are brought against Trump. Second, even if Trump fires Mueller, Flynn will still be locked into helping to take down Trump on a state level. It seems a given that any additional high ranking targets who cut a deal will be subject to this same clause.

In short, this means that Donald Trump can't get very far by trying to pardon anyone, or by trying to fire Robert Mueller. It was already too late for that. Trump would have needed to pardon Flynn before his plea deal for it to have helped him much, and Trump would have needed to fire Mueller months ago back when he would have had more political muscle for trying to pull it off. But this plea deal clause helps to wall Trump in even further. It's simply too late. The game isn't finished being played yet, but it is indeed checkmate, as he's going to lose.

The post "Checkmate!" Legal scholar says this clause in Michael Flynn's plea deal means it's over for Donald Trump appeared first on Palmer Report.
Putin 'deeply concerned' by Trump's Jerusalem move – Arutz Sheva
House Intelligence chairman cleared of disclosing classified information – Reuters
Donald Trump Is Making It Hard For Santa Claus To Fulfill Melania's Christmas List

The first lady asked for peace, health, love and kindness, but apparently not irony.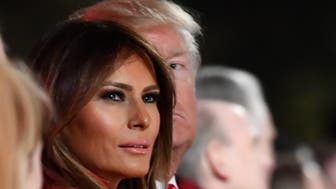 Have Donald Trump and his team just picked a new Trump-Russia scapegoat in the White House?

With four people having been arrested and two of them having pleaded guilty, the participants in Donald Trump's Russia scandal have figured out that a whole lot of them are going down. They're each just trying to make sure it isn't them. We're seeing plea deals, cooperating witnesses, and strategic leaks aimed at steering investigators in certain directions. In short, they're trying to scapegoat each other. Now it appears Trump and his team may be trying to scapegoat a specific individual in the White House.If you were familiar with the name "Dan Scavino" when the week began, it was only because you know him as Trump's social media director. He's the guy who posts promotional tweets to Trump's Twitter account and such. Apart from that behind the scenes role, he's largely been invisible to the public until this week. Suddenly, he's been invoked in a potentially incriminating manner in the Trump-Russia scandal twice within the span of a few days, and at least one of those instances came from Trump's own team.

After Trump accidentally tweeted a confession to felony obstruction of justice this week, he then claimed that his attorney somehow wrote the tweet. Kellyanne Conway asserted that she witnessed the whole thing and it went exactly as Trump had claimed. She also insisted that Dan Scavino was involved in the posting of the tweet (link). At the time it was unclear why she chose to drag him into it.

Then CNN reported today that after Donald Trump Jr's meeting with the Russians, his friend Rob Goldstone continued to communicate with you guessed it Dan Scavino after the meeting (link). We don't yet know how CNN got these emails. But if they did come from Trump's team, it would be the second time this week in which they've pushed the otherwise obscure Scavino front and center in the Trump-Russia scandal. It may be time for Dan Scavino to start asking why.

The post Have Donald Trump and his team just picked a new Trump-Russia scapegoat in the White House? appeared first on Palmer Report.
According to Leaked Emails, the Trump Campaign Received a Pitch to Set Up a Russian Social Media Page – Mother Jones
WikiLeaks published emails hacked from the Democratic Party and the personal email account of John Podesta – Daily Mail
Criminals are cashing in on Bitcoins for illegal activity from buying drugs, hiring hitmen and forging passports on … – The Sun
Ethics Committee clears Intelligence Chairman Devin Nunes – CNN
Rational Security: The "When Youre President They Let You Do It" Edition

Mike Flynn is cooperating with Bob Muellers Russia investigation, and President Trump raises questions about whether he sought to obstruct justice. Deutsche Bank has been told to hand over information about Trump-related finances. And the national security adviser tries to make Trump into a modern-day Ronald Reagan. Plus, Susan highlights a thoughtful discussion on women in national security. And Shane is taking Kim Jung Un . . . rationally.Have you helped us promote Rational Security yet? If not, please leave us a rating and a review on whatever podcast distribution system you use. A lot of people are visiting Lawfare and reaching our podcasts for the first time these days, so if you're new to Lawfare and Rational Security, you can subscribe to the podcast using our RSS feed, or listen on iTunes, on Stitcher and now on Google Play.
Donald Trumps health scandal just got much worse for him

When Donald Trump began slurring his words severely during a speech yesterday, it wasn't immediately clear if he was suffering from an issue with his teeth or an issue with his health. Pundits, the public, and even comedians have been debating the matter ever since. If it was caused by his teeth coming loose, why would a billionaire be wearing dentures instead of getting implants? If it wasn't dentures, what is wrong with him? Today, the White House went and made it much worse.White House Press Secretary Sarah Huckabee Sanders knew the question would be coming during today's press briefing, so she made a statement about it. She blamed Trump's slurring on a dry throat. She then inexplicably announced that Trump is going to get a physical from a military doctor. This is indeed how these things are supposed to work but why on earth would she decide to make Trump's health scandal even worse by bringing up the idea of him seeing a doctor? The entire point of her statement was supposed to have been to steer people away from the idea of this being a health issue for Trump.

This got me thinking. The wise answer would have been to simply blame it on a dry throat and move on. Bringing up a physical was a stupid move. But I can't even figure out what the goal was. If Trump's White House were trying to make the questions about his health go away, they'd have him take a physical tomorrow and immediately announced the results. Knowing them, they'd probably fake the results to hide anything that might be wrong with him. But they'd do it immediately nonetheless. Instead, they're saying Trump will take a physical early next year.

Why? All this does is raise even more questions about Donald Trump's health for the next few weeks. Maybe they're banking on the idea that the media and the public will have moved on to the next scandal by early next year, and thus Trump never will have to take the physical. Maybe they know he's in such swift decline that he won't still be in office by early next year anyway. Or maybe they did this on purpose because they want people talking about Trump's health, so he can resign for medical reasons right after the holidays. This is bizarre. All I know is that there has to be more to it, and there will be.

The post Donald Trump's health scandal just got much worse for him appeared first on Palmer Report.
Hannity: Trump-Russia Probe 'A House Of Cards Beginning to Crash Down' – Fox News Insider
Jake Tapper: Trump Attacks FBI Only When His Side Is Threatened

Comey had "guts" when the FBI was investigating Clinton, Trump said, months before he fired the director.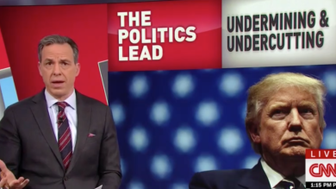 Donald Trump: The huge Israel announcement has overshadowed the Russia turmoil at home – ABC Online
Judge: Man accused of threatening court unfit to stand trial – Hudson Valley 360
Russian social media executive sought to help Trump campaign in 2016, emails show – Washington Post